When I take my car into the dealer to be serviced and get a loaner, most of the time it's just a boring, regular base model sedan – but not this time! This time I got an SUV that is basically the modern replacement for the SUV that I normally drive. So, this is more of a vehicle that I can relate to.
First though, some statistics: the 2019 GLC 300 is a simple 4 door SUV – I'd call it mid-size, but these days it's classified as "small." It's powered by a turbocharged 2.0L 4-cyliner engine making a very respectable 241 HP and 273 pound-feet of torque. All that power gets to the ground via a 9-speed automatic transmission and of course all-wheel drive.
The particular GLC 300 that I was driving was more or less a base model – but with an upgraded appearance package.
Being an SUV the driving characteristics of the GLC 300 were much more familar to me. However, one thing I did notice is that the seating position in this is a bit lower and more car-like.
Visibility was good, all things considered, although the shape of the front hood made it hard to gauge the position of the front of the car. Sadly, this particular model has no front cameras or sensors to help with that.
Performance was very impressive – when you first get on the throttle from a standstill you are definitely reminded that there is a very small engine under the hood, but once the turbo kicks in all that goes out the window. At one point, while going up a hill, I put the car in "Sport+" mode and mashed the throttle – and was promptly thrown back in my seat, at which point I uttered out loud, "shit, this thing can really MOVE!"
As far as driving dynamics go, given the slightly lower center of gravity, it handles quite well – not nearly as top-heavy as my own GLK, and in fact actually quite stable in the corners (though not flat or sports-car-like by any means). It's also about 300 pounds lighter than my GLK (despite being a couple inches longer and wider), which helps with the handling. Overall, it's a fun car to drive which is also quite practical – the back seats are roomy enough, and the cargo area is fairly deep (though again, not as tall).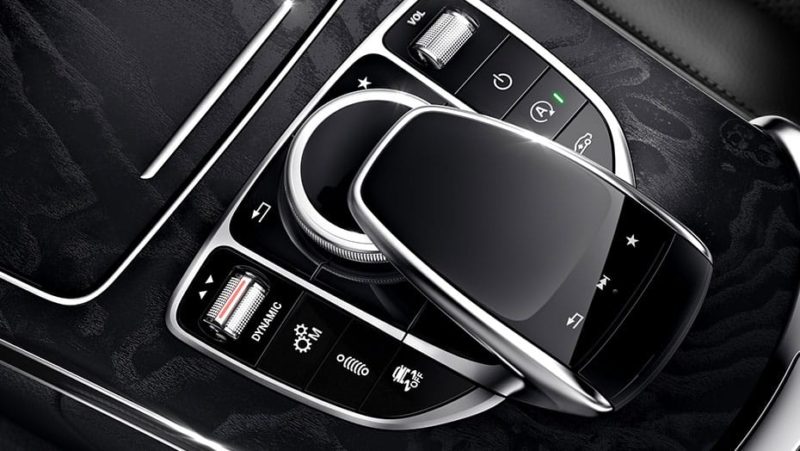 When it comes to technology, however, this GLC kind of falls flat – at least, this particular model does. The infotainment system still relies on the same knob + touch pad combo that Mercedes has been using for the past few years – no touch screen here. The gauge cluster is also the standard 2 analog gauges for speed & tachometer, with a screen between them. Maybe there's option packages that give you this, but the base GLC doesn't have them.
The controls for media & climate are the same "row of silver switches" that have been in just about every Mercedes recently – it's not a bad arrangement, per se, but it's not the greatest. Sure, those silver switches look nice, but some things would work better as dials. (And I still think it's weird and bad design to have the volume be a roller type control located not in the center stack, but on the center console, to the side of that control wheel thing.)
Fuel economy for the GLC 300 isn't great given the engine size, but then again it's also not bad considering that the small engine has to move roughly 4,000 pounds of SUV around. At just 24 MPG combined, my GLK is laughing all the way to the fuel pump. And to make matters worse, the GLC requires premium fuel.
Overall though, the GLC 300 is a competent small/mid-size luxury SUV, and if that's what you're after, you could do far worse than to pick it. (And if you need more "oomph," there's also the GLC 350 and the GLC 43 AMG and GLC 63 AMG, all with progressively bigger and more powerful engines.) Honestly, despite the shortcomings, if I was forced to give up my beloved GLK tomorrow, I would seriously consider the GLC (all the while lamenting the lack of a diesel option – curse you, Volkswagen for ruining diesel here in the US!). But at the same time, I have absolutely no plans to give up my GLK, and if you gave me a choice between the two, I'd keep my GLK any day.