When my venerable old 2003 Mitsubishi Outlander's repair costs started exceeding the value of the vehicle itself, it meant that it was finally time to start thinking about a replacement – something to take on the designation of "the Keithmobile-E."
I had an idea of what sort of car I wanted – basically, something similar to my Outlander, but newer (and maybe a bit nicer). This is basically the "compact SUV/crossover" category, and these days that encompasses a LOT of cars.
I looked at countless vehicles across several model years – I didn't want anything brand-new, but at the same time I didn't want anything more than a few years old. It was a long list of vehicles, but I eventually narrowed it down to two – one of which I've already reviewed.
The other vehicle – and obviously the one that won out in the end – was a 2014 Mercedes-Benz GLK 250.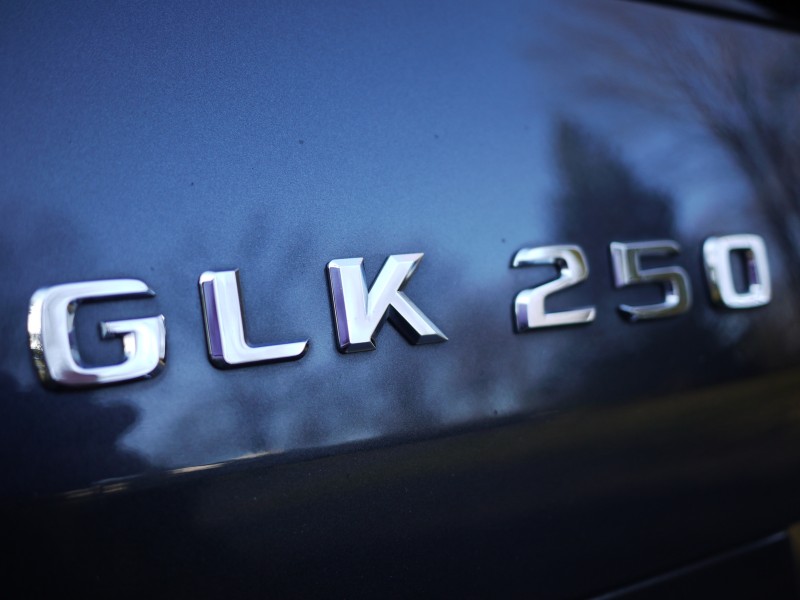 It almost goes without saying that the GLK is a very nice car in all respects – the interior is a very comfortable place to be, and everything is just very well put together and nicely arranged. The particular model I ended up with has all the nice little touches that you'd expect, and though many are becoming fairly standard on new cars these days, they all feel very new & exciting to me since my old car had none of them!
Visibility out of the GLK is also very good (especially for this type of SUV) – certainly no worse than in my old car. Although there is a rear camera, it's entirely possible to reverse this car without it and not have it be a dangerous guessing game of "what might be hiding in my blind spots."
Size-wise, the GLK is almost identical to my Outlander – which is surprising since it looks bigger. But it's the same length, almost the same height, and only 1 inch wider – so it fits exactly into the same spot in my garage. Very handy!
As for technology, the GLK has an easy to use media system with nice easy-to-reach buttons for switching modes (a feature I really like and which some cars don't have). The built-in navigation is perfectly serviceable – though nothing spectacular.
But now let's get to the real reason I chose this car – the engine. The are two types of GLK class vehicles – the 350 and the 250. The former has a 3.5 liter V6 gasoline engine, while the latter has a diesel. Specifically, a 2.1 liter twin-turbo inline-4, putting out an even 200 HP and an incredible 369 lb-ft of torque.
This is the reason I went with the GLK 250.
I drove both vehicles before settling on the 250, and while the 350's engine was plenty powerful, I found that power to be a bit difficult to control. The throttle in the 350 was very fiddly – seemingly dead at first, and then it kicked in with a surge of power that was quite difficult to modulate, especially at slower speeds.
The 250's diesel on the other hand delivers its power smoothly and without any fuss or bother. Additionally, most of that power is available at lower RPMs – as is typical of diesel engines – and which is similar to where the power in my old Outlander was available.
All that low-end power from the diesel also helps with towing, and the GLK is no slouch there either with a maximum trailer weight of 3,500 lbs – quite a bit more than my Outlander could tow!
Even with the relatively low horsepower for a vehicle of this weight (some 4,246 lbs), the GLK 250 gets up and going like nobody's business – there is a slight delay right off the line, but the smaller of the two turbos spools up very quickly and power delivery after that is very even. It's not the quickest thing in the world – in many ways it feels faster than it is – but it's no slouch, either. Acceleration is steady – one might even say relentless.
Even at highway speeds the power is always there should you need it – just put your foot down and you just ADVANCE and suddenly you'll find yourself going a lot faster than you meant to be.
All that power gets to the ground via a 7-speed auto which I would describe as "buttery smooth" – in normal driving I can hardly even tell when it's making the shifts. It also helps that it makes those shifts very quickly, and unlike a lot of cars these days it doesn't mind moving up & down through those gears at your command. (As a nifty trick, it will even downshift to help control your speed while going downhill – something I've never seen any other automatic gearbox do.)
Of course, it also has AWD – Mercedes' 4MATIC system – so even when conditions get slippery there's no problem getting all that power to work.
The engine does have variable valve control but there's no sudden "surge" of power at any point – it is always very smooth and controlled, and (once the turbo has spooled up) very linear.
Even with a heavy AWD system and a rather chunky aerodynamic profile, the GLK 250 still manages to get a very decent 24 city/33 highway MPG – and in practice it does even better. Combine this with a 17.4 gallon fuel tank and the GLK 250 has an incredible cruising range.
On top of this, the GLK is a tremendously comfortable place to be for long periods of time, making it the perfect choice for long-distance road trips. The suspension just soaks up the bumps, but without feeling floaty or disconnected as can happen with too-soft suspension systems. It's soft enough to make rough roads comfortable, but tight enough to let you attack corners in this heavy SUV with confidence.
As for that diesel engine – I've driven several diesel vehicles now (an Audi A4 wagon, a Fiat 500L, and now this GLK 250) and I have to say, they do take some getting used to. With diesels, all the power is generally down low in the rev range – no high revving needed – and the addition of turbos makes things even stranger if you're only used to naturally aspirated engines. But of course the upside is torque, torque, torque! None of these cars is particularly fast per se, but they are definitely quick!
When used in an SUV application though, I think a diesel is a perfect fit – power to get a bulkier SUV moving, but small enough to be fuel efficient. It's a shame they aren't more common (at least here in the US).
The GLK does have a few downsides, though – none serious enough to turn me off, obviously, but your opinion might differ.
Foremost is that rear seat legroom is… not that great. As I said, this GLK is the same length as my Outlander – but the GLK has a bigger engine compartment, so that extra space has to some from somewhere. In this case, that space came from the rear seats (the front seats and cargo area are virtually identical to my old Outlander). It's not exactly bad, but it's not great – especially if you put the front seats all the way back. Now, I rarely have passengers (and I don't put my seat that far back) so this wasn't a big deal for me – but this might be a major drawback for people who regularly carry more than 2 people.
In addition to the slightly restrictive rear legroom, the rear wheel arches intrude into the rear door openings a bit more than I'd like, which makes getting in & out of those back seats a little tricky at times. It's not terribly difficult by any means, but it is noticeable. If you have passengers with any sort of mobility restrictions, they won't be happy in the back of a GLK.
Another minor downside with the GLK is that later model years moved the transmission lever to the steering wheel column. It's not like the old steering wheel systems of yesteryear by any means, but it does take some getting used to. More than once I found myself reaching down to change gears before remembering it's now just a tiny little stalk on the steering column.
All-in-all though I think the GLK 250 is a fantastic SUV – the diesel makes it a blast to drive, and although very comfortable it's still got plenty of "utility" going for it as well. If you're after a small-ish SUV with some style and comfort, you might want to give a GLK a look!