The other day dad reminded me of a story from when I was a young, little bunny.
When I first came to live with mum & dad, they tried very hard to make sure I was OK with all the strange noises that were around where they lived.
One night, there was a thunderstorm – it was the first thunderstorm since I'd come to live with mum & dad. Dad wasn't sure I'd know what lightning and thunder was, and thought it might scare me (it did end up getting quite close, so it was really loud). So dad stayed up with me that night, talking to me until the thunderstorm was gone.
Of course, he didn't have to do this – I'm a smart bunny and I know that you're safe when you're in a house. I was totally relaxed the entire time.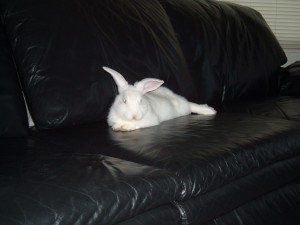 Of course it was nice of dad to stay up. But now he knows that thunder and lightning really doesn't bother me – or Betsy, for that matter. Though dad still does stay up late with us sometimes – he's just weird like that. (He can stay up as late as he likes – as long as he's up on time for treats in the morning!!!)
-Gus