Betsy doesn't want to make a fuss out of it, but mum and dad were so excited when they saw this in her litter box this morning: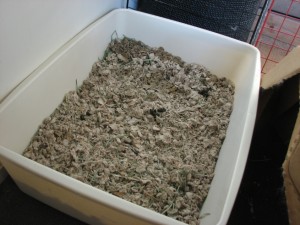 For those without super-bunny-vision, those black dots are poops. Betsy's poops.
Betsy also ate a good portion of her dinner last night, so she didn't get force fed last night, and I think she might even avoid it this morning as well. This is good, because dad's been trying every trick in the book – apple & banana critical care (spoiler: it doesn't really taste like apples or bananas), mushed up banana & water, tummy rubs, papaya tablets, and more.
As I said, mum and dad were all excited (and relieved) about all this. I don't know what the big deal is – I eat and poop all the time!
Also, don't tell Betsy, but I overheard dad on the phone with the VET yesterday… I think she has a follow-up appointment tomorrow. But maybe since she's pooping now she can avoid going to the vet… but we'll see. (I think she still needs antibiotic injections.) Still, at least she won't be spending the night there or anything – not great, but not as bad as it could be, right?
…OK, actually I'm just really relieved that it's not ME that's going to the vet. But can you blame me??
-Gus